Regular price
Sale price
$32.00 USD
Unit price
per
Sale
Sold out
Description

Product Details

Scent Descriptions

Shipping Information
Have a favorite scent you want to keep around at all times? 
Or, want to explore a different scent each month? Our Happy Scents Monthly Candle club is for you!
Choose to get your favorite scent monthly, or switch up your scents each month! If you want to be surprised, choose the 'SURPRISE ME' option and we'll choose a scent for you! 
You may change or cancel your subscription at any time.
8oz/230g Candle + 2oz/56.69g Room & Linen Spray
Handcrafted in Charlotte, NC
Made with all natural, American grown soy wax, cotton wicks and high quality fragrance oils, finished off in reusable containers.
Burn Time is ~50+ hours with proper candle care (ie: Burning candles a maximum of 4 hours at a time + trimming wick to 1/4 inch prior to use)
Since soy wax is a natural material, each candle may have its own unique look and/or texture.
Passionfruit Bliss: Sweet and tart aroma of pineapple, peach, and tangy grapefruit merged with tropical passionfruit, mango, and coconut. Notes of zesty lemongrass and musk round out this fruity scent.
Sweet Tea: Enjoy the light and refreshing aroma of a tall glass of freshly brewed, sweetened iced tea.
Ginger & Saffron:  Fresh and Zesty.  Ginger & Saffron is a bright and spicy scent made of lemon, ginger, saffron and amber.
Vanilla Birch: Soft and Inviting. Vanilla Birch is a soothing combination of fresh white birch, sweet Madagascar vanilla, and warm sandalwood.
Uplift:  Light and airy. Uplift is a fresh and fruity blend of clementine orange, melon, and apple blended with floral notes of lily, freesia, and violet. Base notes of musk, amber and vanilla. 
Teakwood & Leather: Alluring, rich and sophisticated. This masculine scent is a bold blend of rich leather, tobacco leaf, sandalwood, amber, and peppercorn.
Nag Champa: An exotic and earthy fragrance made of exotic spices, flowers, balsam and woods. It smells like the nag champa incense. 

Blue Raspberry: If you like blue raspberry candy, you will love the mouth watering aroma of our blue raspberry scent. It is a sweet and sugary blend of raspberries, lemon, violet and vanilla with a touch of sour green apple!
Unicorn: Sweet cotton candy
Strawberries & Champagne: Juicy strawberries with sparkling effervescent notes
Pixie Stix: Sugar and wild strawberries with just a touch of vanilla.
Monkey Poo: Bananas, coconut, mango and vanilla!
White Sage & Lavender: A blend of sage, rosemary, chamomile, lavender, and hints of sandalwood and cedar which are reinforced by clove, lavandin, and cedarwood essential oils.
Spa Day: The ultimate, luxurious spa fragrance. An infusion of a dozen essential oils from ginger and jasmine, to lemon, mandarin, orange, patchouli, and sandalwood.
Sea Salt & Orchid: A  smooth and elegant blend of soft floral notes with salty highlights and calming notes of jasmine, lily of the valley, and tonka bean.
Mediterranean Fig: Top notes of green florals and green leaves that give way to a heart of fig and jasmine. The floral notes are balanced out by base notes of light musk, wood, and moss.
Love Noir: A complex, sweet and sultry fusion of mandarin, jasmine, and rich amber with undertones of sandalwood and musk
Black Sea: A sweet yet salty oceanic combination with an undercurrent of amber and vanilla.
Pineapple Sage: An unexpected and exotic blend with sweet fresh cut pineapple and aromatic sage! Infused with natural essential oils, including eucalyptus, cedar, vetiver, palmarosa, clary sage, lemongrass, amyris, black pepper, cade, and blue chamomile flower.
Tonka & Oud: A complex, modern woody fragrance begins with top notes of amaretto and powder as it gives way to a heart of tonka and balsam. Notes of rum, musk, and sweet, resinous oud make up the base of this intriguing fragrance. Infused with natural essential oils, including fir needle, cedarwood, lemon, peppermint, and palmarosa.
Egyptian Amber: An alluring, woody fragrance with bold musk aromas. A light touch of jasmine and ozone gives way to a heart of sandalwood, leather, and earthy patchouli. Amber and musk base notes wrap up this complex fragrance.
Blueberry Pie: Try not to drool, this candle has the mouth-watering aroma of sweet blueberry pie and its flaky crust with a touch of vanilla!
Winter Wassail: A warm and inviting blend of oranges, lemons, apple cider, and cranberries.
Wash Day Gain: Enjoy the smell of the classic laundry detergent without the hassle of actually doing laundry! 
Yellow Cake: Let's celebrate with the sweet aroma of a rich and buttery vanilla cake covered in sugary vanilla buttercream frosting!
Lavish Lavender: Relax and enjoy the enhanced natural aroma of lavender with notes of citrus, camphor, and eucalyptus.
Cool Cucumber: Find your zen with this light and refreshing scent! Top notes of zesty lime and ozone give way to a fresh cucumber aroma, sweetened by ripe honeydew and cantaloupe melons. Bamboo and aloe base notes enhance the green, natural quality relaxing scent. 
Sea Foam Rose: Sea Foam Rose is a beautiful airy, floral fragrance that has a marine freshness. A combination of sweet mandarin and wildflower honey make up the top notes,  with middle notes of lily and rose. Hints of woody amber and powder in the base provide a rich, earthy balance to the clean floral notes. 
Cozy Cotton: Wrap yourself in the nostalgic aroma of crisp clean sheets with our Cozy Cotton scented candle.
Stress Relief: Spearmint & Eucalyptus
Cocoa Butter Kisses: Get cozy with the aroma of precious woods and enjoy the richness of amber, light musk and creamy cocoa butter!
Island Sensation: Crisp watery accents add sparkle to the fruity heart of this exotic blend which includes pineapple, goji berry and mango with a hint of driftwood. 
Holiday Cheer: A fruity spicy bouquet with cinnamon, clove, nutmeg, and juniper notes with a sweet, musky background.
Ugly Christmas Sweater: An enchanting blend of fresh evergreens and fruits. Cooling camphor, airy ozone, and a hint of citrus start off this complex winter scent. Middle notes of deep red berry balance the woody pine and juniper notes. The fresh evergreen notes are reinforced by eucalyptus, fir needle, and cedar leaf essential oils.
Frankincense & Myrrh: A rich combination of warm dry woods with patchouli and balsam, myrrh and olibanum are added to the accord for exotic appeal while lingering tones of Arabian musk and sandalwood create an earthy softness.
Sweet Glow: A sweet combination of light fruits and florals, peaches, bananas and citrus. Soft florals of jasmine and wild violets blend with the base of warm vanilla and exotic musk. 
Autumn Sunset: This is Fall in a jar! The crisp aroma of apples straight from the orchard and cinnamon powder with a touch of vanilla that warms the heart of this fragrance.
Cozy Flannel: Masculine & Clean. This unique scent is made of citrus and green notes atop a floral heart of spicy rose, lavender, violet, and jasmine. Base notes of woods, musk, sweet vanilla, and berry.
Cran-Apple Crisp: A luscious blend of tart cranberries, ripe apples, and spice.The notes of orange peel and apple sweeten the cranberry heart of this fragrance, while notes of cinnamon, clove, and sugar wrap all the fruits together into a delectable aromatic treat.
Vanilla Spice: Creamy vanilla intertwines with cinnamon, clove and ground ginger, with hints of cedar wood and patchouli. 
SHIPPING COSTS
U.S. Orders: Flat Rate Shipping $4 for orders under 1lb. and $7.50 for orders over 1lb.
Free Shipping on all U.S. orders $100 or more.
International Orders: Shipping is calculated at checkout.
PROCESSING & SHIPPING TIMES
Orders are generally processed in 2-5 business days, excluding weekends and holidays.
Once processed, we ship via USPS Priority Mail or First-Class Mail. Delivery can vary between 1-5 business days depending on your location.
International deliveries can take longer depending on location.
WRONG ADDRESS
We are not responsible for shipping addresses that were incorrectly entered at checkout. Buyer is responsible for the shipping costs associated with re-sending the package if it's marked by USPS as not deliverable or return to sender.
LOST OR STOLEN PACKAGES
Once a package is picked up and scanned in by our carrier, the shipping and delivery status is no longer within our control. We are unable to replace missing or stolen packages at this time. Please reach out directly to the shipping carrier for missing or stolen packages within 24-48 hours of receiving your delivery confirmation.
DAMAGED/INCORRECT ITEMS
We make every effort to ensure our products arrive quickly and undamaged; however, stuff happens!
If your items were damaged in transit or are not the items you ordered, please contact us within 5 days of delivery, at info@happyscentsco.com and we'll work quickly to resolve the issue. In your email, please include the following information:
Your order # and which items were damaged/incorrect.
Photo of the packaging and damaged or incorrect items.
Whether you would like a replacement, refund or store credit (full purchase price less shipping costs).
Click here for full details regarding our shipping policy.
Share
View full details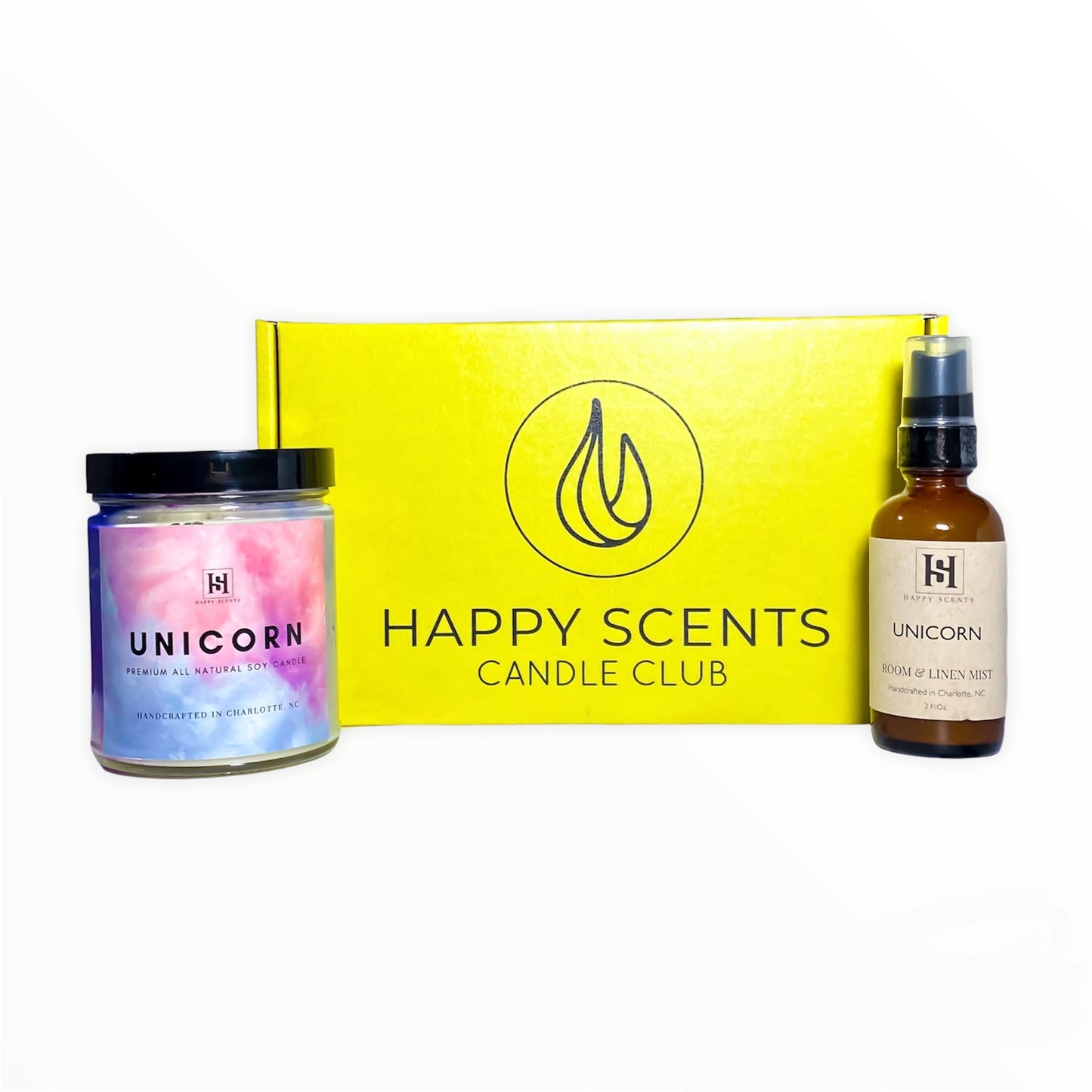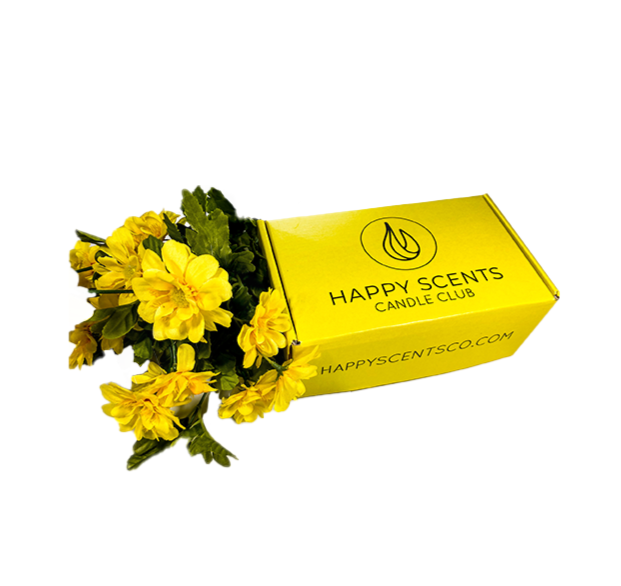 Loved the notebook and the scent
Loved the scent and the lil things you put in do count
love vanilla
my experience with your products is always on point....love the smells
Teakwood and Leather
Ohhhh this scent is sooo beautiful , one of my favs now…how about an oil?
Love the extra something
Love all your candles - loved the letter D tag thank you so much
Satisfied
Satisfied with my boxes so far. Love that the owner takes the time to write a note each month. The candles burn with way less soot than some big box brands i've tried.